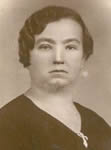 Aniela Herman
zd. Buraczyńska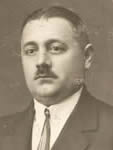 Albert Karol
Herman
Albert Karol Herman was born on June 19, 1888 in Zyrardow (see) - died on January 16, 1944 in Siedlce

. His parents were - Karol Ernest Rudolf Herman (or Hermann?) and Anna Maria, nee Hildebrandt.
Albert's father, Karol came from Germany (from Silesia [?] according to some verbal reminiscences, but Albert's sister, Helena (see below) mentions in her biography a place "Kalisbad" [perhaps Karlsbad in the Rheinland district?]). The family was said to be of noble origin and owned an estate there. Karol was fluent in several languages. He moved to and took refuge in the "Kingdom of Poland" (see - http://www.kasprzyk.demon.co.uk/www/Revolution.html) to escape the military service in the Prussian army. At that time, big textile manufactures were being set up in Poland in the area of the cities of Lodz and Zyrardow and he assumed there a supervisory position, after appropriate training. He and his family were of the Evangelical-Augsburg (Lutheran) religious denomination.
Albert's mother, Anna was Polish and came from a multi-denominational family - she was born in Bledow near Warsaw, where her family also owned an estate. Anna's father (Albert's grandfather) was of Italian origin and a catholic. He fought and died in the Uprising of 1863 (see - http://www.kasprzyk.demon.co.uk/www/Revolution.html). Anna's mother (Albert's grandmother) was Polish and a lutheran. The date and place of their wedding are not known. (According to an agreement between them - their sons were to be baptized in the Catholic Church and daughters in the Lutheran Church ("Kirche")! After the fall of the Uprising, their estate was requisitioned by the occupiers and the mother with four children (Anna among them) were removed from the property and settled in Zyrardow.
Albert was baptized on June 23, 1888 in the lutheran parish in Wiskitki near Zyrardow (see map) and later confirmed on April 5, 1903 in a lutheran church in Zyrardow. In 1905 Albert's parents moved with the children to Chelm Lubelski - the grandmother Hildebrandt remained in Zyrardow. Soon after moving to Chelm - the mother died. The father remarried in 1907. Soon afterwards, Albert moved from Chelm to Riga (Latvia - at that time also part of the Russian Empire), where he started on a job in 1908 (see below - separate page).
Albert's wedding with Aniela Buraczyńska

, who was a roman-catholic took place on February 1, 1909 in a roman-catholic church in Riga. Aniela was born on October 17, 1889 in Dubienka (or her birth was registered in a Parish there?). The family lived in a village Rogatka (see) in Lublin Polesie (see map). They probably met before Albert moved to Riga (currently in Latvia).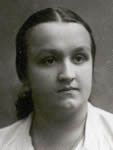 0086 Wanda Wajszczuk
zd. Herman
Albert and Aniela had a daughter Wanda

, who was born in Riga on July 2, 1914 (see picture below). They also had probably another daughter earlier, but she died in infancy?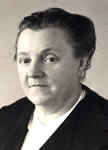 s. Helena Albertyna
Herman
Albert had three brothers (all of them died in childhood) and two sisters (nothing is known about the youger sister). The surviving sister, Helena Albertyna was initially raised as a lutheran, but on reaching adulthood converted to catholicism and spent her whole adult live in a catholic convent (see Helena's page). She died on May 19, 1972 in Klimontow (see).
Albert died in Siedlce in January of 1944, at the age of 55. Before his death, in response to his wife's request, he converted to catholicism. He is buried in the family grave in the old cemetery in Siedlce. (http://www.wajszczuk.pl/spotkania/cmentarze_e.htm).
---